Hendricks Power Cooperative Announces 2023 Scholarship Winners
Hendricks Power Cooperative Announces 2023 Scholarship Winners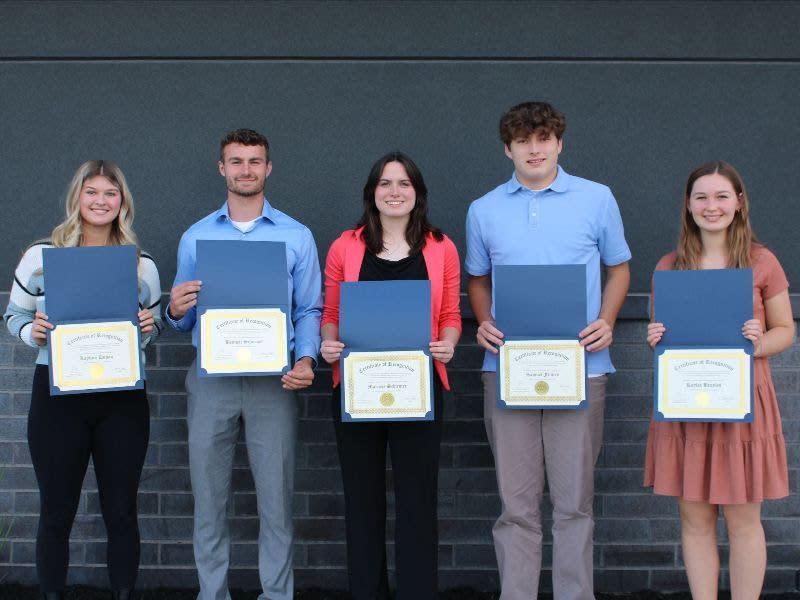 Scholarship winners from left to right: Kaylinn Dugan, Bennett Schirmer, Marissa Schirmer, Samuel Finney, and Kaylee Broyles (not pictured: Annika Christiansen)
Avon, IN — Hendricks Power Cooperative recently announced the winners of the 2023 Commitment to Community Scholarship program. More than 70 member applications were received from graduating students.

The scholarship recipients are as follows: Kaylee Broyles, Tri-West High School, Annika Christiansen, Plainfield High School, Kaylinn Dugan, Plainfield High School, Samuel Finney, Plainfield High School, Bennett Schirmer, Tri-West High School, Marissa Schirmer, Four Seasons Academy.

Each student will be awarded a $1500 scholarship to be used towards continuing education at the college or vocational school of their choice. These six students have excelled academically and were selected based on their personal achievements, application essays, and other criteria.

Hendricks Power hosted a dinner on May 16 to recognize these students and present them with certificates celebrating their achievements. "We really look forward to the awards dinner," said Emily Hammell, Marketing Communications Manager at Hendricks Power. "It gives us an opportunity to become better acquainted with the students and their families. We enjoy hearing about their future plans and seeing their enthusiasm towards this next step in life."

Applications for 2024 scholarships will be available at www.hendrickspower.com/scholarships in early 2024.
About Hendricks Power Cooperative
Hendricks Power Cooperative provides electricity and energy services to over 35,000 residential, commercial and industrial customers in west-central Indiana. Formed in 1936, the cooperative is owned and controlled by members they serve. For more information regarding Hendricks Power Cooperative and other related services, please visit hendrickspower.com.